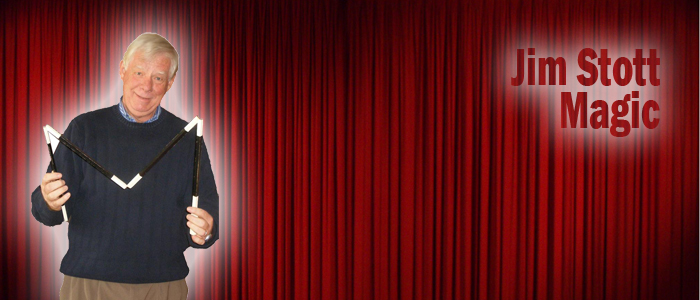 Jim's Product Page

Magic for Magicians!
Jim Stott's Magic Comedy and Plume Burst Magic Wands
Tutorial Video – Watch Jim Demonstrate How to Use Your New Wand(s)
Watch Jim Use Both Wands in One of His Favorite Routines
Jim Stott's Comedy Flower Wand - $30
Postage & Handling Anywhere in the United States - $6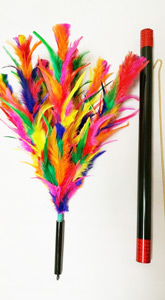 Jim Stott's Plume Burst Wand - $36
Postage & Handling Anywhere in the United States - $6
Buy Both Wands at the Same Time - $60
Postage and Handling Anywhere in the United States - $10
Note: For Orders Outside the United States, please email Jim for postage costs.
---
Birthday Magicology
The easiest way to learn how to be a successful children's entertainer without a lot of work struggling to get started, without buying high-priced boot camps, courses or seminars, and without waiting around for results is finally here. Introducing . . . Birthday Magicology How to develop a show, get clients, and make money as a magician. Plus, I'll send you weekly assignments for a full three months to help you, step-by-step, build and grow your business into a thriving money maker!
---
Restaurant Magicology
If you are a magician and want to expand your market to include restaurants, this is the course for you! Weekly downloadable lessons teach you how to prepare a show for restaurants, find work in restaurants, and use this experience to build your business and add additional shows!
---
Magic for Everyone!
Jim Stott's Deluxe Magic Set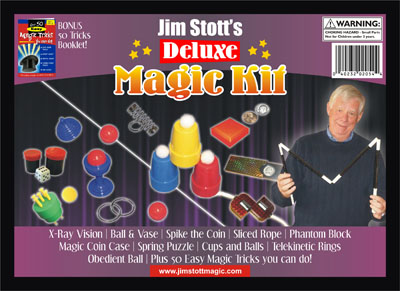 Start your young magician on a fascinating hobby by selecting Jim Stott's Deluxe Magic Set. This set includes some of the most popular tricks for children that are easy to learn and perform. Magic teaches many important skills including reading and understanding directions, the importance of practice, and the confidence that comes from performing in front of others. In addition, it's a great way for you, the gift giver, to bond with your gift recipient. When you start a young person out doing magic, you never know where it may lead - just look at all the folks who started out their careers as magicians and/or who do magic today - e.g., Steve Martin, Neil Patrick Harris, Johnny Carson, Jerry Lewis, Dick Van Dyke, George W. Bush, Dick Cavett, and even Muhammad Ali. Magic is a great hobby that has a great many benefits! This set includes everything that is in Jim Stott's Beginner's Magic Set plus the Cups and Balls trick, the Phantom Box that enables you to change a penny into a dime, and the Telekinetic Rings that magically cling to each other and spin without the magician touching them. That makes a total of ten tricks plus a Booklet of 50 Easy Magic Tricks. Why not order today and get your young magician started on a fascinating hobby!
---
Jim Stott's Ultimate Card Magic Set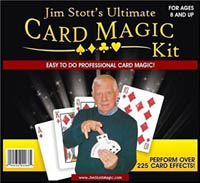 Card magic is one of the oldest forms of entertainment known to man. Jim Stott's Ultimate Card Magic Kit provides everything you need in order to start entertaining friends, family, and anyone else you want to amaze and impress. Included in this kit are four specialty decks of cards, a magic card case, and a professional three card monte trick With this kit, you can learn over 225 different magic tricks with cards. With the Magic Svengali Deck, you can have a spectator select a card, have the card then appear in different locations, and conclude by having all cards in the deck change into the selected card. The Wizard Stripper Deck enables you to have a spectator select a card. The spectator can shuffle the deck and you are able to immediately find the card. This is only one of many effects possible with this deck. With the Phantom Marked Deck, you will be able to do a series of miracles as you will always know the selected card once you learn the secret markings. With the Vanishing Card Case, you can place a deck of cards into the card case and when the case is turned over, the deck has completely vanished. The Magic Card Box enables you to have cards appear, disappear, and change into other cards! These examples are just a sampling of the tricks that can be done with the cards in this kit. Also included is a comprehensive instruction booklet that will teach you how to use everything that comes with the kit. Also included in your kit is a Welcome Letter from Jim with a secret website where you can go to download bonus materials and watch videos to help you learn. With Jim Stott's Ultimate Card Magic Kit, you will be well on your way to mastering card magic and being able to entertain others. Order your kit today and get started on a magical journey!
---
Jim Stott's Ultimate Magic Kit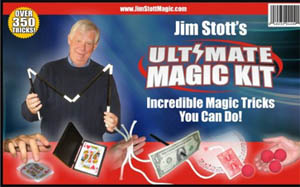 Magic is fun to watch and even more fun to perform! With Jim Stott's Ultimate Magic Kit, you will learn tricks that are actually used by professional magicians. Once you learn these tricks you will be able to amaze and astound your friends and family. The following items are included in the kit: 1) the Incredible Levitation System will enable you to levitate a playing card, dollar bill, and more 2) use the Magic Card Box to make cards appear, disappear, and change from one card to another 3) with the Incredible 3 Rope Mystery you take three ropes of different sizes and magically make them all the same size 4) use the 4 Magic Sponge Balls that are included to make balls appear, disappear, and travel through space 5) with the Top Secret Vanishing Device, you can make a handkerchief appear and disappear, pour salt into your fist and have it vanish and reappear, plus a number of other magical effects 6) use the Magic Pen Penetration to push a pen through a dollar bill and then remove the pen and have the hole in the bill vanish 7) with the Svengali Card Deck you will be able to do amazing feats of magic including changing the entire deck of cards into the selected card 8) an Instruction Booklet that will teach you how to do over 350 tricks with the tricks listed above. Order Jim Stott's Ultimate Magic Kit today and be on your way to learning how to be a professional magician!
---
Jim Stott's Ultimate Street Magic Kit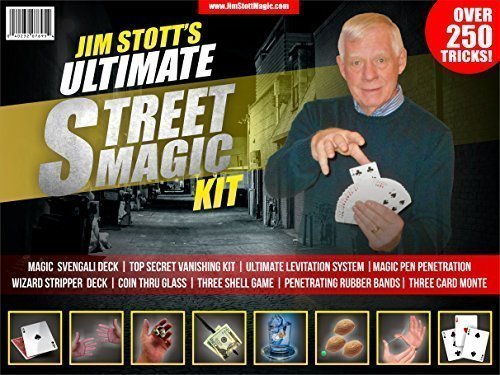 Street magic has become one of the most popular forms of magic. David Blaine and Criss Angel have shown how magic can be done to entertain people practically anywhere. And now, you too, can be performing the same magic tricks that they do. Jim Stott's Ultimate Street Magic Kit contains the tricks to get you started. Included in the kit are the following tricks: Using the Magic Svengali Deck and the Wizard Stripper Deck you will easily perform incredible mind blowing card magic. Easily locate the spectator's chosen card, find the 4 aces in a single cut, and make all the cards change to the spectator's selected card! All this and more! The Top Secret Vanishing Kit can be used to vanish a handkerchief, pour salt into your fist and have it disappear and many more tricks. You will also learn my routine for using this device as I perform it in every show I do! Perform incredible levitation effects with the Ultimate Levitation System - levitate a playing card, dollar bill and more! The Penetrating Rubber Bands will enable you to cause two rubber bands to penetrate each other, and the Magic Pen Penetration that lets you take a pen and push it through a dollar bill and then restore the hole in the bill. Cause a coin to instantly and visibly penetrate through a solid material with Coin Thru Glass! With the professional Three Card Monte routine, perform the classic con game, also known as Find the Lady, wherein the spectator is never able to correctly identify where the selected card has gone. And finally, there is the classic Three Shell Game that almost all street magicians perform. Each trick comes complete with an Instruction Booklet that will teach you many effects with each trick. The Kit also contains a Welcome Letter postcard with a link to a secret website with instructional videos and free magic to download.
---
Jim Stott's Official Magician's Magic Wand Kit
Jim Stott's Official Magician's Wand Kit gives you all of the following:
Includes Magic Wand With Instructions for Seven Tricks You Can Do With Your New Wand!
Also Includes the Spot Card Trick Where Spots Appear and Disappear!
Use the Zig Zag Pencil to Change a Pencil Into Three Pieces and Then Restore The Three Pieces Back Into One Piece!
The Two Card Monte Trick Enables You To Have Two Playing Cards Change Places!
This Kit is Perfect to Use Alone or to Complement Any of Jim's Other Magic Kits!
---
Jim Stott's My First Magic Kit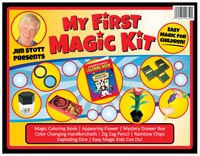 Here at last is the perfect magic kit for young people 5 years of age and above! With the magic wand that is included, your child or grandchild can easily perform feats of magic such as the Magic Coloring Book, the Double Color Changing Handkerchiefs, the Zig Zag Pencil, the Magical Mystery Drawer Box and the Magic Appearing Flower!
I designed this kit so that it would appeal to youngsters from the age of five on up. I also wanted the kit to contain tricks that would be easy to do yet magical to the audience. One of the tricks, the Magic Coloring Book, is one that I personally use in professional shows that I do. This is a kit that children of all ages will enjoy! Be sure and watch the video below to see all of the magical mysteries contained in My First Magic Kit!