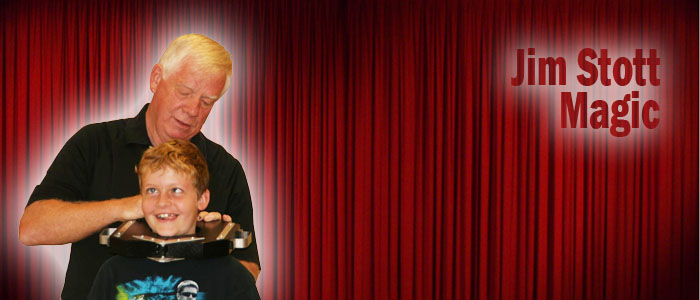 About Jim Stott Magic
Jim has been successfully entertaining children and adults with his magic since 1976. With over 35 years of experience, he knows and understands his audiences. With six kids and twelve grandkids, Jim knows children. Add to that his experience as a teacher, principal, and school superintendent and you know that you will be in good hands if you have Jim entertain at your next party or event.
Jim and his wife, Diane, live in Kuttawa, Kentucky. Diane works as a consultant for AT & T while Jim keeps busy with their two companies, Bayview Properties, LLC and Woodside Properties, LLC. In addition, Jim is the president of the Lake Barkley Chamber of Commerce.
Jim not only performs magic but teaches other magicians how to entertain successfully as well. He is the author of Birthday Magicology, which is a twelve week course teaching magicians how to achieve success in performing birthday parties and Restaurant Magicology, which teaches magicians how to perform successfully in restaurant settings.
Jim is a member of the Society of American Magicians and the International Brotherhood of Magicians. He is a two-time president of the Society of American Magicians Jay Marshall Assembly #148 in Chicago.
Let Jim bring his magic to your next event!